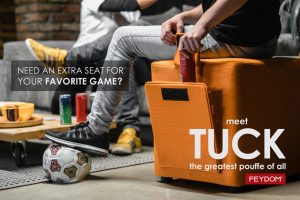 With the 2018 World Cup in Russia coming up extremely soon, we were in dire need of a seat that could satisfy all our game watching needs. All of us couldn't quite fit on a normal sofa. That's when the Tuck idea came along. As an addition to the previously known classic pouffe, storage space would be added inside which could be reached easily through the side opening.
When it comes to Tuck, it's not just a seat; you can place it anywhere, get some snacks, and you've got yourself a package deal, literally.
So, what's a sofa without a Tuck? Now you don't even have to find out.
Beginning the campaign on Saturday was a rush to the finish line to collect all the new photos, videos, and extra content to share with the world our very own Pouffe World Cup Winner. From Monday on, every sofa is now also introduced with it's very own Tuck, an extra seat for your favorite game.
Everyone's invited.